Do You Really Need Rideshare Insurance?
Sep 16, 2021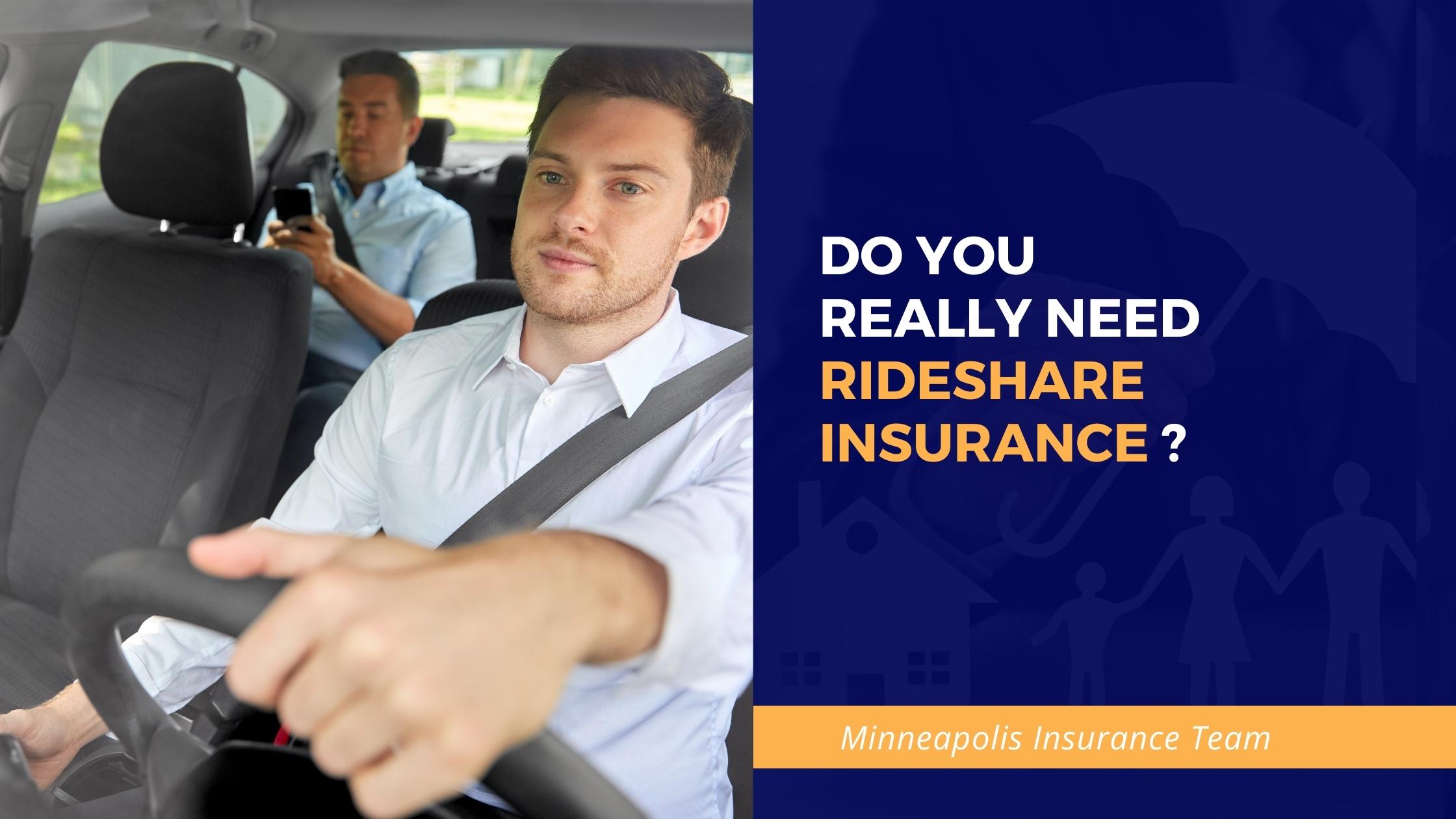 It may seem like an okay idea to put off looking into rideshare insurance. Maybe you're a good driver and besides Uber and Lyft have insurance don't they? Why would you want to pay more money for a rideshare endorsement or take the chance of getting canceled if your insurance company doesn't offer rideshare insurance? Another driver on youtube said we didn't need it. But, what's the truth?
It's an okay idea until you have an accident and have to think about it again. Ever thought about who is liable for Uber accidents in Minneapolis? Well, it might be too late. The Uber driver on youtube giving free insurance advice isn't an insurance professional. It's probably not a good idea to trust his advice.
It's estimated that over 60% of rideshare drivers don't have rideshare insurance.
Without a Rideshare Insurance Policy or a Rideshare Endorsement, You'll Have Coverage Gaps
The entire time your app is on, your personal auto policy is suspended. Your TNC Lyft, Uber, etc., does provide coverage, but only for the period of time between accepting the passenger and dropping off the passenger (before accepting a passenger, some TNCs may provide limited liability coverage only). When you don't have a passenger – you have no coverage for your vehicle and any damages or injuries you may sustain.
RideSharing Coverage steps in to cover you between passengers, effectively closing the gap.
Some Things to Consider
Huge deductibles – Lyft has a $2500 deductible. Uber has a $1000 deductible. Some rideshare policies will cover the deductible gaps as well. If for example, you have a $500 deductible on your policy that's what you'd have with the rideshare endorsement – not $2500 or whatever. You'll want to ask your agent as some insurers will cover this gap and some insurers won't cover it. A rideshare endorsement covering this gap could seem like a real bargain at claim time.
Loss of use- Let's say you have an accident while heading to your hotspot and your vehicle is damaged. It needs extensive repair and it could take weeks to get it back on the road. You're likely going to be out of pocket for deductibles you also won't be able to drive or earn if that's your only vehicle.
Ride-sharing coverage and gaps:
MN state law requires rideshare drivers to carry a minimum of 50/100/30 liability limits. If you are carrying the state minimum of 30/60/10 you won't be compliant.
Per vehicle/per occurrence/property damage
Check Your Auto Insurance Policy
Even though you have an auto insurance policy, it might not provide coverage while you are working for a TNC – Lyft, Uber, etc., Look at the exclusions in your policy. Most personal auto insurance policies have exclusions for when a vehicle is used "in connection with a transportation network company," "as a public or livery conveyance," or "to carry persons or property for a charge." Many applications specifically ask "Are any vehicles used for rideshare?"
Also, look at the terms and conditions of the policy. Using your car for business purposes may be in violation and cause your policy to be canceled.
Do you really need rideshare insurance? Yes!
Is it possible to pay lower rates with a rideshare endorsement than you're currently paying? Yes! A driver just recently cut his insurance bill in half and has better coverage.
There are tips and tricks to get better rates like:
Bundling all your insurance to get the multi-policy discounts

Some companies have lower rates than others in certain areas – so check other companies

Carrying higher liability limits could get you a better quote – people looking to save on insurance typically carry lower limits of liability and it actually costs them more.

Get an advance quote or early bird quote at least two weeks in advance of your current policy expiration. Most companies will give you a discount.

Use an independent agent or agency that represents more than one company and understands rideshare insurance. It will save you time.
Want more tips? We have rideshare and transportation insurance specialists to help you with your questions. We will help you find the coverage that best meets your needs and help you with any discounts so you get covered at the best price. You can contact us at 612.460.7796 and we will be happy to speak with you.